Looking through my Aperture library I realised that I had quite a few other great photos of food that I'd made. Mostly sandwiches, as somehow they make up a large part of my diet, but a few other things. So, a selection.

This is a pulled pork ciabatta that I made a week ago or so. I had a shoulder of pork that I marinated/covered in chipotle and BBQ glaze and then roasted for a few hours until totally tender. And what better way to eat it than in a sandwich (actually over multiple sandwiches (and they were all awesome)). The inspiration for this came from Pig in Victoria, BC and the Cuban sandwich from Garden at the Cellar in Cambridge, MA. Both very excellent places. Lots of mayo, tomato, rocket (arugula?), swiss cheese, pulled pork, stuffing (how British!), BBQ sauce and hot sauce all in a fresh ciabatta made this lunch gnarly.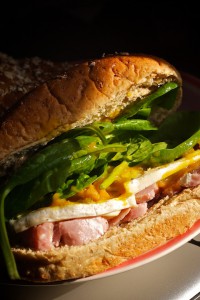 Next up another pork based monster. This time I got a roast gammon, and kept it simple with just piccalilli, a little mayo, Pave d'Affinois, and rocket in a seeded multigrain roll. The contrast of the tangy piccalilli with the strong cheese worked well…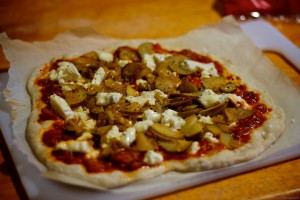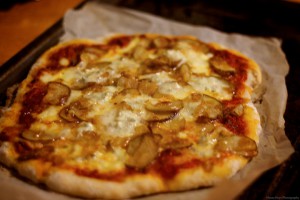 Finally, something other than a sandwich. I got so inspired by going to CPK for the first time (thanks Amy!) and having the great combination of caramelised pear and gorgonzola that I thought I should give it a go. Suffice to say it was fantastic. Especially the smell of the caramelising pears. I made the pizza dough myself using a fantastic recipe involving a little honey and olive oil, which was then left in the fridge for a day or so to sit there/ripen, the pizza topping was pretty much self explanatory (it kinda was in the name…), and I had a little rocket (not quite pictured) on it just to make it seem vaguely healthy.