And so after my previous article on food, I feel like I should write another on a similar topic. A different country however. I love Japanese food. So much so that I even get terrible Sushi here just for comfort. I don't go out of my way to eat terrible such, it's just that most places here aren't exactly amazing (though I did find a reasonable one in London recently, Yoshino). What I actually miss loads is Ramen. Warm huge bowls of noodle based awesomeness. Before I went to Japan, I read this fantastic article in the Times about the Ramen culture and the people who endeavour to visit mad amounts of Ramen joints. It's fantastic. So much so that when I was walking through Harajuku at lunchtime one day I decided just to go for it, and visit an interesting looking ramen place. Upon arriving, I was faced with this.
Pretty indecipherable huh? I did manage however, and ordered fairly spicy ramen with minced pork. It was excellent. I wish they did half decent noodles here. I like Wagamama, but it has got boring recently. Too boring.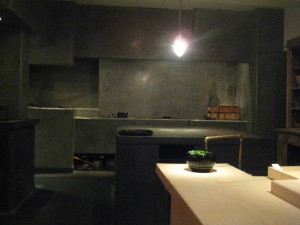 Another restaurant that I had a chance the amazing opportunity to visit when I was in Tokyo was one called Yakumo Saryo. This is one hell of a cool place. Seemed like a secret dining place, judging by the company and the restaurant's personal service, but the Kaiseki cuisine served there was unbelievable. There's a fantastic writeup of the restaurant here. I had exactly the same dishes, and I was in awe the entire meal. Do check it out!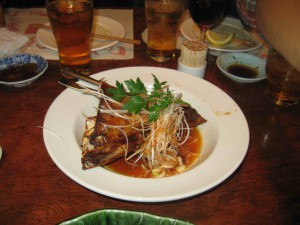 The final place that I think is worth mentioning, was so good that I went twice. Kaikaya. It's hidden up a street near Shibuya, and it does wonderful sashimi and grilled fish with european influences. Some of the amazing dishes there include a fish carpaccio (sengyo no carpaccio) and grilled tuna sparerib (maguro no kama no supearibu). Both are unbelievable, but I'd suggest ordering omakase (Y3500), and getting a selection of everything on offer. Really really worth going to. I will definitely be back there when I grace Tokyo again!